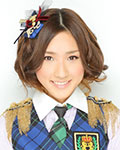 Matsubara Natsumi announced her graduation from AKB48. The date of her graduation ceremony hasn't been determined yet.
On her blog, she explained that she decided to leave the group to become an actress. She wants to perform in stage play, drama, and movie.
Matsubara Natsumi joined AKB48 in 2006 as a 2nd generation member. She is part of Team K.