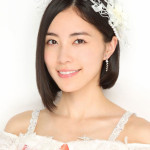 The idol Matsui Jurina decided to leave AKB48.
This annoucement was made by herself on last October 22 during the radio program "All Night Nippon".
Howerver, she precised that she will stay member of SKE48 and will focus on her activities with this idol group.
Matsui served as SKE48's center alongside Rena Matsui, but with Rena's graduation occurring on August 31, Matsui decided to devote her efforts to SKE48's success.
Matsui joined SKE48 as a 1st generation member in 2008. She later joined AKB48 on March 24, 2012, and held concurrent positions within both groups as Kennin member.