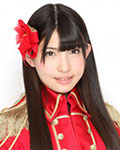 Matsumoto Rina, SKE48 Team KII, will be graduating from the idol group because of her studies.
Matsumoto Rina announced her graduation herself on February 20 during Team KII's stage Theater no Megami (シアターの女神) at SKE48 Theater in Aichi.
She said : "To everyone who has really supported me until now, I was very happy during the 5 years. From now on, I want to work toward my dreams for the future by doing my best with my studies."
Matsumoto Rina will be active along with the idol group until April. Formal graduation dates hasn't been determined yet.
On March of 2009, Matsumoto Rina joined SKE48 as a 2nd generation member. She began as a member of Team KII by performing on stage the following year in April. She became one of the Senbatsu members for the group's 8th single Kataomoi Finally released in January 2012. In last year's AKB48 32nd Single General Elections, she came in at number 41.