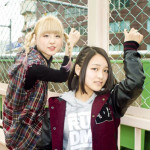 MC Miri and 8Gatsu-chan formed a new idol group 8mm.
Both girls are going to perform rap songs.
MC Miri is a member of Rhymeberry.
8Gatsu-chan (八月ちゃん) is a member of Oyasumi Hologram (おやすみホログラム).
The name of the unit 8mm is pronounced Hachimiri (ハチミリ).
Sound producer Hashida Kazuma (Hakoniwa no Shitsunaigaku) and Oyasumi Hologram producer Ogawa Koichi are in charge of this collaboration project.
8mm will be introduced and make their live debut on April 16 during An Night ~Soshite Densetsu e~ (あんナイト~そして伝説へ~) at Shinjuku Loft, Tokyo. Bellring Girls Heart, Rhymeberry, Oyasumi Hologram, Jyujyu, Maison Book Girl, Avandoned, Necronomidol and Mizuno Shizu will also participate in the event.