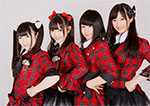 Merci♡Coco (メルシーココ) is a Japanese idol group formed in May 2013. It currently consists of 4 members.
The unit is based in Sapporo on the island of Hokkaido.
Merci♡Coco is part of Team Crerekko! (Teamくれれっ娘!) along with [email protected] and Snow Drop.
Their 1st single is going to be released in December 2013.
Profile
Merci♡Coco (メルシーココ)
Years active : 2013 – present
Label : –
Agency : Cradle Records
Members
Terabayashi Moka (寺林モカ)
Mimura Haruka (三村遙佳)
Hayashi Reina (林玲奈)
Saikawa Ami (斉川絢美)
Discography
Singles
03/12/2013 : Ichigo Chocolate (苺♡Chocolate)
Albums
Links
News