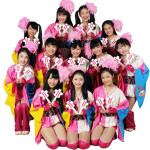 Michinoku Sendai Ori☆Himetai (みちのく仙台Ori☆姫隊) is a Japanese idol group formed in 2011.
It currently consists of 7 regular members. Each one has been assigned a number.
The leader is Nodoca.
Biography / History
As its name suggests, Michinoku Sendai Ori☆Himetai is a local idol group from Sendai.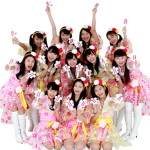 Michinoku is an alternate name of Tohoku area in North Eastern Japan.
Orihime is a legendary princess of Sendai.
Michinoku Sendai Ori☆Himetai was created in July 2011 in order to support people and reconstruction after the great Tohoku earthquake and tsunami. All members are survivors of the disaster. The girls participate in charity events, cheer people still living in shelter houses and collect funds.
The idol group is mainly active in the Prefectures of Miyagi, Iwate and Fukushima which were hardly hit by the earthquake.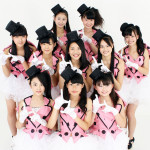 They held a live performance at Ho Chi Min City, Vietnam, in April 2012.
Michinoku Sendai Ori☆Himetai's debut album Heart to Heart ×9 was released in June 2012.
Their 1st single Papa (パパ) went on sale in October 2012.
Hanna made her solo debut on the single Namiuchigiwa no Kataomoi (波打ち際の片想い) in February 2013.
Rina released her 1st solo single Shampoo PuPuPu (シャンプーPuPuPu) in June 2013.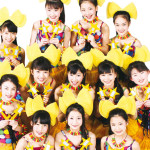 The DVD Iiyashi (癒し。。) was released in December 2013. It features the members of the idol group having fun at an amusement park, at an hotel, in the countryside. The aim of the video is to promote the places rebuilt after the earthquake.
Hanna announced her graduation in April 2014.
Michinoku Sendai Ori☆Himetai won the Sukidol Project (スキドルProject) grand prix in July 2014.
Minami left the idol group in August 2014.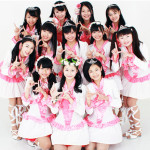 The girls were appointed PR ambassadors of Kodomo Hota Ranger (こどもホタレンジャー) to promot ecology by the Ministry of the Environment in November 2014.
The idol group received the Kawaii Award at the Dance Summit in Japan (ダンスサミット in Japan) in December 2014.
Marie graduated in February 2015.
The idol group takes part in Welcome to Japan Project since May 2015. They promote local products from their region and Japanese popular culture worldwide.
Michinoku Sendai Ori☆Himetai participated in Japan Expo 2015 in Paris Nord Villepinte, France, in July 2015. Check out our photos and videos of the event.
They performed at the 2015 Comic Exhibition in Taiwan in August 2015.
Erina announced her graduation in August 2015.
The girls have more than 70 types of costumes that they wear depending on the event. These costumes are designed by Murata Yoshie.
Profile
Michinoku Sendai Ori☆Himetai (みちのく仙台Ori☆姫隊)
Years active : 2011 – present
Label : –
Agency : Jasia
Members
Nodoca (ノドカ) – No.1
Rina (リナ) – No.4
Yuna (ユウナ) – No.5
Anne (アン) – No.6
Erin (エリン) – No.8
Sora (ソラ) – No.10
Karen (カレン) – No.11
Kenkyuusei
Marin (マリン) – No.13
Miho (ミホ) – No.14
Volunteer Member
Former Members
Hanna (ハンナ) – No.3
Minami (ミナミ) – No.12
Marie (マリエ) – No.9
Erina (エリナ) – No.2
Discography
Singles
28/10/2012 : Papa (パパ)
24/12/2012 : Ori☆Star LoveJet / Orange Ole! Ole!
31/03/2013 : Don't play hard to get / Mata Itsuka (またいつか)
09/06/2013 : Sora ga Aoi (空が青い)
27/10/2013 : Christmas Kiss / Onii-chan to Yobase (お兄ちゃんと呼ばせ)
16/03/2014 : Kimi ni Todoku Kaze ni Nare / Takaramono (君に届く風になれ / たからもの)
10/11/2014 : Ai no Mirai no Melody (愛のミライノメロディ)
Solo Singles
28/10/2012 : Namiuchigiwa no Kataomoi (波打ち際の片想い) / Hanna
09/06/2013 : Shampoo PuPuPu (シャンプーPuPuPu) / Rina
Albums
02/06/2012 : Heart to Heart ×9
Links
News