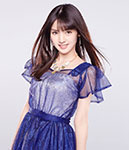 Michishige Sayumi Personal Book "Sayu" (道重さゆみパーソナルブック『Sayu』) will be released on July 13.
This date corresponds to Morning Musume '14's leader Michishige Sayumi's 25th birthday.
In this book, the cute idol introduces her private clothes, her make-up, her personal belonging, her treasure… This is the first time that she is talking about her private life.
It also includes a long interview with her of more than 20,000 characters. She looks back on her life and recounts her memories along with the members of the different generations.
Michishige Sayumi joined Morning Musume in 2003 as a 6th generation member. She will graduate from Hello! Project at the end of the year after the idol group's fall live tour.