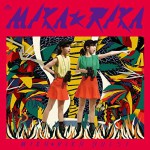 The new single of MIKA☆RIKA entitled MIKA☆RIKA QUEST was released on April 29.
This is the 3rd single of MIKA☆RIKA, an idol group consisting of twin sisters.
This is also the first single of the group to have a national release and to be available in Tower Records stores.
A video of 2 minutes announcing the release of the single was posted on YouTube. You can watch it below.
The tracklist was unveiled.
The title song MIKA☆RIKA QUEST was written by SHUN whereas the B-side song Mune ga Jin Jin GENE was written by VELENTino.
Tracklist
CD

MIKA☆RIKA QUEST
Mune ga Jin Jin GENE (胸がジンジンGENE)
MIKA☆RIKA QUEST (Instrumental)
Mune ga Jin Jin GENE (Instrumental)
Video