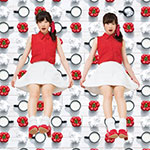 Mika Rika's new single Shitappa (下っ端) will be released on July 23.
This is the 2nd single from Mika☆Rika.
The lead song was written by Gaki Ranger.
Amanatsu, Nobuo Takaya and VELENTino composed the other songs.
The cover artwork was designed by To To To (トトト).
Only one edition is available. The CD contains 4 tracks and their instrumental versions.
Tracklists
Shitappa (下っ端)
1.2.Sancho! (1.2.サンチョ!)
Nangoku Shuka (南国しゅか~)
Hoshino Furumachi (ホシノフルマチ)
Shitappa (下っ端) (Instrumental)
1.2.Sancho! (1.2.サンチョ!) (Instrumental)
Nangoku Shuka (南国しゅか~) (Instrumental)
Hoshino Furumachi (ホシノフルマチ) (Instrumental)