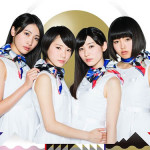 Mirai Skirt (ミライスカート) is a Japanese idol group formed in 2014. They are also known as MiraSuka (ミラスカ).
It currently consists of 4 members. Each one has been assigned a color.
The idol unit is based in Kyoto in Kansai area.
The leader is Kojima Marina.
They are produced by agehasprings.
Biography / History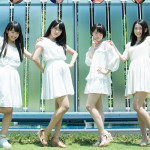 The concept is to create an elegant and pop idol group from Kyoto.
Auditions were held in the spring of 2014.
The new members were introduced in June 2014.
Kojima Marina is was previously part of Hachi Hachikita Girls (ハチハチ北Girls). She studied abroad in the USA and in France.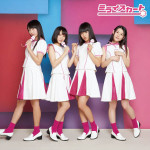 Even if the girls were quite unknown, they attracted the interest of fans at the Tokyo Idol Festival 2014 in August.
Mirai Skirt, Hauptharmonie, Seno Sister and Jyujyu held the nationwide live tour Idol-tachi no Hameln Tour (アイドルたちのハーメルンツアー) in November 2014.
Mirai Skirt's 1st single Namonai Oto was released in February 2015.
Their 1st one-man live was held in May 2015 at Osaka Muse. If less than 350 people attended the event, the idol group would have disbanded. Fortunately, they succeeded this challenge and it was sold out.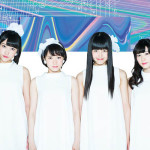 Mirai Skirt made their major debut with the single COSMOsSPLASH in July 2015. It ranked 6th on the Oricon daily chart.
Kojima Marina performed in Alice In Project's stage play The Girl with Wild Blood Gun (魔銃ドナーKIX) in November 2015.
Mirai Fes (未来フェス) took place in December 2015 at Kyoto Muse. Mirai Skirt, callme, Kurihara You and lyrical school participated in the event.
Their single Chitose Shoujo ~Tin Ton de Schon~ (千年少女〜Tin Ton de Schon〜) reached the 15th rank on the Oricon weekly chart in March 2016.
The idol group is going to hold regular live performances at Akika Cultures Theater, Tokyo, from April to June 2016.
Profile
Mirai Skirt (ミライスカート)
Years active : 2014 – present
Label : Island Roots
Agency : Yoshimoto R and C
Members
Kojima Marina (児島真理奈) – Pink
Hayashi Naomi (林奈緒美) – Green
Hasihmoto Juna (橋本珠菜) – Orange
Aitani Reina (相谷麗菜) – Blue
Discography
Singles
11/02/2015 : Namonai Oto
21/07/2015 : COSMOsSPLASH
02/03/2016 : Chitose Shoujo ~Tin Ton de Schon~ (千年少女〜Tin Ton de Schon〜)
Albums
Links
News