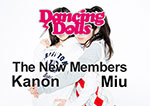 Miu and Kanon are going to join Dancing Dolls as new members.
The new members will officially be introduced and make their debut during Dancing Dolls' live performance scheduled on February 14 in Tokyo.
The staff of the idol group published a picture of the new members and a video in which their faces are hidden in order to keep the mystery until this day.
However, both girls have already started dance practice and song recording.
Dancing Dolls' 6th single My Way / Love Me, Love Me features a cover of the song Melo Melo Bakkyun by Miu and Kanon.