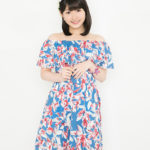 Hello! Project announced on its official website on July 25th that Miyamoto Karin, a member of Juice=Juice, is suffering from functional dysphonia.
Miyamoto Karin is the lead singer and central member of the idol group, but because of this alteration on her vocal cords, she is no longer able to sing accordingly.
She has to suspend her activities with Juice=Juice, for an indefinite period, to follow a medical treatment.
But, remaining optimistic, Miyamoto Karin hopes to be able to resume her artistic activities very soon.
We wish her a speedy recovery.