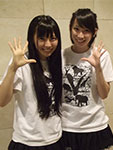 Formed a few years ago, Shizukaze & Kizuna (しず風&絆) is one of the leading idol groups on the indie scene.
They perform regularly in concert and in various festivals. Their new album 交-Majiware- will be released on November 6.
Check out our interview with Mizuno Haruko (水野晴子), the leader of Shizukaze & Kizuna.
Could you introduce yourself and the group ?
My name is Haruko. I am 22 years old. I am the leader of Shizukaze & Kizuna.
Shizukaze & Kizuna is from Nagoya in Aichi Prefecture, but we hold regular live performances in Tokyo. We perform rock music.
Unlike other idols who are sometimes playing a character, we are always ourselves on stage.
Your latest single Tsukushinbou (つくしん暴) has been released on March 31. Could you say a few words about it ?
Tsukunsinbou has 2 versions : one is "idol" and the other is "rock". They have the same lyrics and the same melody, but the difference is the image and the feelings given during the performance.
There is a great atmosphere at your live performances. What do you feel about the support from the audience ?
About the support from our fans, I would just say one word : happy!
I feel happy because I can see the smile on their face during our concerts.
What are your goals for the future ?
I would like the people who listen to our music to have fun for a long time.
Do you have a message for your fans ?
Shizukaze & Kizuna is not currently very famous in Japan. So I want to perform in several cities across Japan in order to make people know us. I would also like to go to other countries.
Thanks to Haruko, the staff of Shizukaze & Kizuna, and Michel.