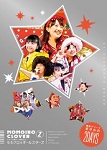 Momoiro Cover Z DVD and blu-ray Box Momoclo Haru no Ichidaiji 2012 ~Yokohama Arena Masaka no 2 Days~ (ももクロ春の一大事2012 〜横浜アリーナ まさかの 2 Days〜) will be released on September 5.
These editions include the concerts Momoclo All Stars 2012 and Miwataseba Dai Panorama Jigoku held on April 21-22 at Yokohama Arena.
The DVD and the blu-ray of both concerts can also be purchased individually.
Momoclo Haru no Ichidaiji 2012 ~Yokohama Arena Masaka no 2 Days~
Momoclo All Stars 2012
Miwataseba Dai Panorama Jigoku
Momoclo All Stars 2012
Miwataseba Dai Panorama Jigoku