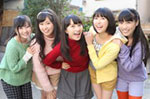 The members of Momoiro Clover Z are going to play the leading roles in "Momoclo" Christmas Drama ("ももクロ"クリスマスドラマ).
The title of the drama has finally been revealed, it is Tenshi to Jump (天使とジャンプ).
The 2 episodes will be broadcast on NHK on December 24 and 25 at 0:10.
The filming was done between October and November in Tokyo.
Furthermore, Momoclo's latest single Gounn is on sale since November 6.