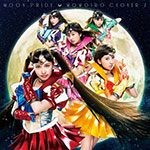 Momoiro Clover Z will release their new single Moon Pride on July 30.
It is the opening theme song for Pretty Guardian Sailor Moon Crystal (美少女戦士セーラームーンCrystal) anime.
The music video, its live version and the trailer of the anime with the new song by Momoiro Clover Z has been released.
The lead track was written and composed by Revo (Sound Horizon). The B-side track Gekkou (月虹) is the ending theme for the anime.
The lyrics were written by Shirobara Sumire. The music was composed and arranged by Kosaka Akiko. 2 versions are available.
Tracklist
Momoclo ver.

Moon Pride
Gekkou (月虹)
Moon Revenge
Moon Pride (Instrumental)
Gekkou (月虹) (Instrumental)
Moon Revenge (Instrumental)
Sailor Moon ver.

Moon Pride
Gekkou (月虹)
Moon Pride (Instrumental)
Gekkou (月虹) (Instrumental)
Music Video (PV)
Trailer