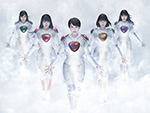 Momoiro Clover Z will participate in Anime Expo 2015 in Los Angeles, USA, in July 2015.
They will be the guests of honor of the American convention dedicated to Japanese culture.
Momoclo are also going to hold a live performance at Nokia Theatre, Los Angeles, on July 2.
Kiss members Paul Stanley and Gene Simmons will be present alongside them at these events. The single Yume no Ukiyo ni Saitemina (夢の浮世に咲いてみな), made in collaboration between Momoclo and Kiss, was released on January 28.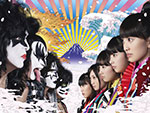 Momoiro Clover Z have already experienced overseas concerts as they performed in Germany, in Malaysia and in France in 2011 and 2012.
Anime Expo 2015, also known as AX, will take place on July 2-5 at the Los Angeles Convention Center in USA.
Further details and information will be announced later.