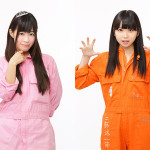 Mone and Chibo are going to leave You'll Melt More!.
Mone announced her graduation from the idol group.
Chibo will be transferred to their sister unit Let's PocoPoco which has the same production team.
The graduation live of both members will be held on July 10th at the Shinkiba Studio Coast, Tokyo.
Mone told that she disagreed with the management about the future of the unit after being signed to a major label. She is a first generation member of You'll Melt More!. She joined the idol group 3 years and a half ago.
For the same reason, Chibo decided to restart from scratch as part of Let's PocoPoco. She explained that she still aims to reach the top. She is originally a fan of idols such as Morning Musume, and she would like to perform this style of music.