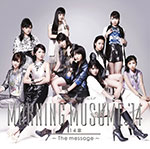 The new album Morning Musume '14 14 Shou ~The message~ (14章~The message~) will be released on October 29, 2014.
This is the 14th studio album since its debut and its first one under its name Morning Musume '14.
The list of songs and album covers has been unveiled. All songs were written, composed and produced by Tsunku.
Three editions are available: a regular edition (CD only) and two limited editions labeled A and B (CD with different surcharge DVD).
This is the last album with the idol group leader Michishige Sayumi, member from the 6th generation, who will leave next month. Moreover, the date of graduation will be on November 26, 2014 during a farewell concert scheduled on this date. Furthermore, the new members of the 12th generation were introduced on September 30 during the first live of Morning Musume '14 Concert Tour 2014 Aki Give Me More Love at Nippon Budokan.
Tracklist
CD

TIKI BUN (Album Version)
Password is 0
Ashita wo Tsukuru no wa Kimi (明日を作るのは君)
Kirari to Hikaru Hoshi (キラリと光る星) (Sayashi Riho, Oda Sakura)
Koibito ni wa Zettai ni Shiraretakunai Shinjitsu (恋人には絶対に知られたくない真実) (Michishige Sayumi, Fukumura Mizuki, Iikubo Haruna)
What is LOVE?
Watashi wa Watashi Nanda (私は私なんだ)
Waraenai Hanashi (笑えない話)
Egao no Kimi wa Taiyou sa (笑顔の君は太陽さ)
Kimi no Kawari wa Iyashinai (君の代わりは居やしない
Otona ni Nareba Otona ni Nareru!? (大人になれば 大人になれる!?) (Ikuta Erina, Suzuki Kanon, Ishida Ayumi, Sato Masaki, Kudo Haruka)
Toki wo Koe Sora wo Koe (時空を超え 宇宙を超え)