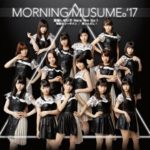 Morning Musume '17 will release their new single Jama Shinaide Here We Go! / Dokyuu no Go Sign / Wakaindashi! (邪魔しないで Here We Go! / 弩級のゴーサイン / 若いんだし!) on October 4th.
It is the 64th single of the Hello! Project idol group. It has a triple A-side.
Morito Chisato appears for the first time on this disc as a 14th generation member of Morning Musume.
Kudo Haruka, meanwhile, will make her last appearance with the idol group on this single.
The songs Jama Shinaide Here We Go! and Wakaindashi! were written and composed by Tsunku.
The song Dokyuu no Go Sign was written and composed by Kodama Ameko.
The DVDs will contain the MVs for the main songs and their dance versions, as well as a lottery ticket to participate in a handshake event with members of the Morning Musume '17.
A special limited edition with Kudo Haruka will also be available.
Check out the music videos below.
Tracklist
CD

Jama Shinaide Here We Go! (邪魔しないで Here We Go!)
Dokyuu no Go Sign (弩級のゴーサイン)
Wakaindashi! (若いんだし!)
Jama Shinaide Here We Go! (Instrumental)
Dokyuu no Go Sign (Instrumental)
Wakaindashi! (Instrumental)
Limited Edition A DVD

Jama Shinaide Here We Go! (Music Video)
Limited Edition B DVD

Dokyuu no Go Sign (Music Video)
Limited Edition C DVD

Wakaindashi! (Music Video)
Special Edition DVD

Jama Shinaide Here We Go! (Dance Shot Ver.)
Dokyuu no Go Sign (Dance Shot Ver.)
Wakaindashi! (Dance Shot Ver.)
Kudo Haruka Edition DVD

Wakaindashi! (Kudo Haruka Solo Ver.)
Wakaindashi! (Making Of)
Music Videos (PV)