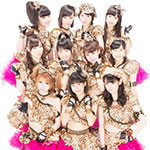 Morning Musume's 53rd single Brainstorming / Kimi Sae Ireba Nanimo Iranai (ブレインストーミング / 君さえ居れば何も要らない) will be released on April 17.
It is a double A-side single. 7 versions are available. Each one of them contains 3 original songs.
The limited editions Type A, B, C come with a bonus DVD including various versions of the music videos and making-of footage.
It is the last single from Morning Musume featuring Tanaka Reina. The single includes her solo version of Rock no Teigi (Rockの定義) which is her graduation song.
Check out the music videos with English and Japanese subtitles.
Regular Edition Type A
CD

Brainstorming (ブレインストーミング)
Kimi Sae Ireba Nanimo Iranai (君さえ居れば何も要らない)
Rock no Teigi (Rockの定義) (Tanaka Reina)
Brainstorming (ブレインストーミング) (Instrumental)
Kimi Sae Ireba Nanimo Iranai (君さえ居れば何も要らない) (Instrumental)
Regular Edition Type B
CD

Brainstorming (ブレインストーミング)
Kimi Sae Ireba Nanimo Iranai (君さえ居れば何も要らない)
A B C D E-cha E-cha Shitai (A B C D E-cha E-cha したい)
Brainstorming (ブレインストーミング) (Instrumental)
Kimi Sae Ireba Nanimo Iranai (君さえ居れば何も要らない) (Instrumental)
Limited Edition Type A
CD

Brainstorming (ブレインストーミング)
Kimi Sae Ireba Nanimo Iranai (君さえ居れば何も要らない)
A B C D E-cha E-cha Shitai (A B C D E-cha E-cha したい)
Brainstorming (ブレインストーミング) (Instrumental)
Kimi Sae Ireba Nanimo Iranai (君さえ居れば何も要らない) (Instrumental)
DVD

Brainstorming (ブレインストーミング) (Music Video)
Brainstorming (ブレインストーミング) (Dance Shot Ver.)
Limited Edition Type B
CD

Brainstorming (ブレインストーミング)
Kimi Sae Ireba Nanimo Iranai (君さえ居れば何も要らない)
A B C D E-cha E-cha Shitai (A B C D E-cha E-cha したい)
Brainstorming (ブレインストーミング) (Instrumental)
Kimi Sae Ireba Nanimo Iranai (君さえ居れば何も要らない) (Instrumental)
DVD

Kimi Sae Ireba Nanimo Iranai (君さえ居れば何も要らない) (Music Video)
Kimi Sae Ireba Nanimo Iranai (君さえ居れば何も要らない) (Close-up Ver.)
Limited Edition Type C
CD

Brainstorming (ブレインストーミング)
Kimi Sae Ireba Nanimo Iranai (君さえ居れば何も要らない)
A B C D E-cha E-cha Shitai (A B C D E-cha E-cha したい)
Brainstorming (ブレインストーミング) (Instrumental)
Kimi Sae Ireba Nanimo Iranai (君さえ居れば何も要らない) (Instrumental)
DVD

Rock no Teigi (Rockの定義) (Tanaka Reina) (Music Video)
Brainstorming / Kimi Sae Ireba Nanimo Iranai (ブレインストーミング / 君さえ居れば何も要らない) (Making of)
Limited Edition Type D
CD

Brainstorming (ブレインストーミング)
Kimi Sae Ireba Nanimo Iranai (君さえ居れば何も要らない)
Tokimeku Tokimeke (トキメクトキメケ) (Michishige Sayumi, Fukumura Mizuki, Ikuta Erina, Iikubo Haruna, Ishida Ayumi)
Brainstorming (ブレインストーミング) (Instrumental)
Kimi Sae Ireba Nanimo Iranai (君さえ居れば何も要らない) (Instrumental)
Limited Edition Type E
CD

Brainstorming (ブレインストーミング)
Kimi Sae Ireba Nanimo Iranai (君さえ居れば何も要らない)
Itsumo to Onnaji Seifuku de (いつもとおんなじ制服で) (Sayashi Riho, Suzuki Kanon, Sato Masaki, Kudo Haruka, Oda Sakura)
Brainstorming (ブレインストーミング) (Instrumental)
Kimi Sae Ireba Nanimo Iranai (君さえ居れば何も要らない) (Instrumental)
Morning Musume – Brainstorming (MV)
Morning Musume – Kimi Sae Ireba Nanimo Iranai (MV)
Morning Musume – Kimi Sae Ireba Nanimo Iranai (Dance Shot Ver.)
Tanaka Reina – Rock no Teigi (MV Close-up Ver.)