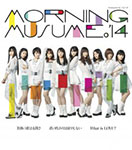 Morning Musume '14 will release their new single Egao no Kimi wa Taiyou / Kimi no Kawari wa Iyashinai / What Is Love? (笑顔の君は太陽 / 君の代わりは居やしない / What Is Love?) on January 29.
This is the 55th single from Morning Musume. 6 editions are available.
For the first time, the idol group is credited as Morning Musume '14 on this single.
The music videos have been released.
The CD includes 3 songs and their instrumental versions. The tracklist is the same for each edition.
The limited editions include a DVD with the music videos and bonus footage. They come with a lottery ticket for an event.
Tracklist
CD

Egao no Kimi wa Taiyou (笑顔の君は太陽)
Kimi no Kawari wa Iyashina (君の代わりは居やしない)
What Is Love?
Egao no Kimi wa Taiyou (笑顔の君は太陽) (Instrumental)
Kimi no Kawari wa Iyashina (君の代わりは居やしない) (Instrumental)
What Is Love? (Instrumental)
DVD (Type A)

Egao no Kimi wa Taiyou (笑顔の君は太陽) (Music Video)
Egao no Kimi wa Taiyou (笑顔の君は太陽) (Close-up Ver.)
DVD (Type B)

Kimi no Kawari wa Iyashina (君の代わりは居やしない) (Music Video)
Kimi no Kawari wa Iyashina (君の代わりは居やしない) (Dance Shot Ver.)
DVD (Type C)

What Is Love? (Music Video)
What Is Love? (Dance Shot Ver.)
DVD (Type D)

Egao no Kimi wa Taiyou (笑顔の君は太陽) (Dance Lecture Video)
Egao no Kimi wa Taiyou (笑顔の君は太陽) (Dance Shot Ver.)
Egao no Kimi wa Taiyou / Kimi no Kawari wa Iyashina (笑顔の君は太陽 / 君の代わりは居やしない) (Making-of & Off Shot Video)
Music Video (PV)