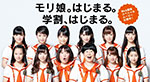 Tsunku♂ announced the formation of a new idol unit Morimusu (モリ娘。).
Morimusu is composed of the 10 members from Morning Musume '14 (モーニング娘。'14) and 2 members from Morisanchu (森三中).
Morimusu has been created in order to promote the new campaign of au about student discount. Morning Musume's producer Tsunku♂ said that this new project with the idol unit was a big challenge.
Check out the TV CM.
This announcement was made on January 22 during the conference au Presentation 2014 Spring (au発表会 2014 Spring) held to introduce the new campaigns, CM and phone models of the company. The event was live broadcast on Ustream and Nico Nico Douga.
Morisanchu is a famous Japanese comedy trio. Oshima Miyuki and Kurosawa Kazuko are part of Morimusu.
au is one of the biggest Japanese mobile phone company.