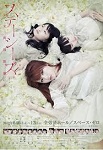 The DVD of the stage play Stacy's Shoujo Saisatsu Kageki (ステーシーズ 少女再殺歌劇) starring Morning Musume will be released on September 12.
The following Morning Musume's members were casted : Reina Tanaka, Mizuki Fukumura, Erina Ikuta, Riho Sayashi, Kanon Suzuki, Haruna Iikubo, Ayumi Ishida, Masaki Sato and Haruka Kudo.
The stage play was held between June 6-12 at Space Zero in Tokyo.