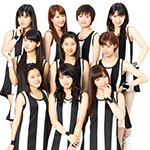 Morning Musume will release their new album The Best! Updated Morning Musume on September 25.
This album includes the "updated" versions of a selection of the greatest and of the latest hits of Morning Musume performed by the members of the current generation.
The limited edition comes with a bonus DVD featuring 2 music videos, an interview with the members of Morning Musume, and making-of footage.
Tracklist
CD

Love Machine (Loveマシ-ン)
I Wish
Renai Revolution 21 (恋愛レボリュ-ション21)
The Peace! (ザ☆ピ~ス!)
Sou Da! We're Alive (そうだ!We're Alive)
The Manpower!!! (The マンパワー!!!)
Aruiteru (歩いてる)
Renai Hunter (恋愛ハンター)
One・Two・Three
Wakuteka Take a Chance (ワクテカ Take a Chance)
Help Me!!
Brainstorming (ブレインストーミング)
Kimi Sae Irebe Nanimo Iranai (君さえ居れば何も要らない)
Wagamama Ki no Mama Ai no Joke (わがまま 気のまま 愛のジョーク)
Wolf Boy (ウルフボーイ)
DVD (Limited Edition)

Wagamama Ki no Mama Ai no Joke (わがまま 気のまま 愛のジョーク) (Dance Shot Ver.II)
Ai no Gundan (愛の軍団) (Dance Shot Ver.II)
Album Special Interview & Making-of (アルバムスペシャルインタビュー&メイキング映像)