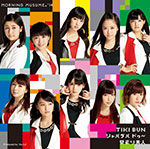 Morning Musume '14's 57th single Tiki Bun / Shabadaba Doo / Mikaeri Bijin (Tiki Bun / シャバダバ ドゥ~ / 見返り美人) will be released on October 15.
As its title suggests, this is a triple A-side single.
The MVs with English and Japanese subtitles have been released.
The limited edition include a bonus DVD featuring the music video or its making-of footage. They come with a lottery ticket for a handshake event with the members of Morning Musume '14.
A special website has been opened : http://www.helloproject.com/morningmusume/tikibun/
Furthermore, the date of Michishige Sayumi's graduation live and ceremony has been announced. The event will be held on November 26 on Morning Musume '14 autumn tour final at Yokohama Arena.
Tracklist
Type A

CD

Tiki Bun
Shabadaba Doo (シャバダバ ドゥ~)
Mikaeri Bijin (見返り美人)
Tiki Bun (Instrumental)
Shabadaba Doo (Instrumental)
Mikaeri Bijin (Instrumental)

DVD

Tiki Bun (Music Video)
Type B

CD

Tiki Bun
Shabadaba Doo
Mikaeri Bijin
Tiki Bun (Instrumental)
Shabadaba Doo (Instrumental)
Mikaeri Bijin (Instrumental)

DVD

Shabadaba Doo (Music Video)
Type C

CD

Tiki Bun
Shabadaba Doo
Mikaeri Bijin
Tiki Bun (Instrumental)
Shabadaba Doo (Instrumental)
Mikaeri Bijin (Instrumental)

DVD

Mikaeri Bijin (Music Video)
Type D

CD

Tiki Bun
Shabadaba Doo
Mikaeri Bijin
Tiki Bun (Instrumental)
Shabadaba Doo (Instrumental)
Mikaeri Bijin (Instrumental)

DVD

Tiki Bun (Dance Shot ver.)
Tiki Bun (Making-of)
Music Video (PV)