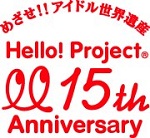 Morning Musume Worldwide Handshake Events will be held between October 15-30 in Taiwan, in Thailand, and in France.
To participate, you have to check the information in the taiwanese, thai or french version of Morning Musume's 13th album ⑬ Colorful Character.
As part of Hello! Project 15th Anniversary ~Thank You~ Worldwide Handshake Events, other Hello! Project artists will meet their fans across the world.
Schedule
Morning Musume Handshake Event in Taiwan
Date : 15/10/2012
Time : 19:00
Venue : Taipei, Taiwan
Participating members : Sayumi Michishige, Reina Tanaka, Mizuki Fukumura, Haruna Iikubo, Ayumi Ishida
Morning Musume Handshake Event in Thailand
Date : 17/10/2012
Time : 17:00
Venue : Siam Discovery Center, Bangkok, Thailand
Participating members : Sayumi Michishige, Reina Tanaka, Mizuki Fukumura, Haruna Iikubo, Ayumi Ishida
Morning Musume Handshake Event in France
Date : 30/10/2012
Time : 13:00
Venue : Hard Rock Café, Paris, France
Participating members : Sayumi Michishige, Reina Tanaka, Mizuki Fukumura, Haruna Iikubo, Ayumi Ishida