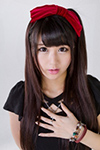 GALETTe announced the graduation of Murayama Shihori from the idol group.
Murayama Shihori had to stop her activities with GALETTe in late February due to poor physical health.
After discussions between her and the staff, it was decided that her graduation would be held on March 31.
She apologized for this sudden announcement and thanked the fans for their support.
Murayama Shihori joined GALETTe in August 2013 as an original member of the idol unit. She is the former leader of QunQun. She was also a former member of Raise Chou Chou and Shooting Star Girls.