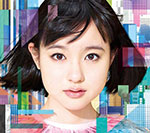 Muto Ayami's major debut album Eien to Shunkan (永遠と瞬間) will be released on April 23.
This album includes 8 songs inspired by various styles like 80s popular idols, rock and pop.
Muto Ayami is a former member of Sakura Gakuin.
The MV for Sora (宙) has been released.
She graduated from Sakura Gakuin in March 2012. She began her activities as a soloist one year later in May 2013.
Eien to Shunkan is produced by Honma Akimitsu. The lyrics were written by artists such as Miura Yoshiko and Mori Yukinojo. The music was arranged by Nishi-Ken.
2 versions of the single are available.
The limited edition includes a bonus DVD with a documentary on Muto Ayami and a music video.
In addition, Muto Ayami Debut Live "Birth" will be held on April 29 at Tsutaya O-East in Tokyo. The idol will also celebrate her 18th birthday on that day.
Tracklist
CD

Sora (宙)
Jikan to Iu Wonderland (時間というWonderland)
Irodori no Natsu (彩りの夏)
Sakura Romance (桜 ロマンス)
Toumei Shoujo (とうめいしょうじょ)
A.Y.M.
Megami no Suggestion (女神のサジェスチョン)
Eien to Shunkan (永遠と瞬間)
DVD

Documentary of Ayami Muto
Sora (宙) (Music Video)
Music Video (PV)