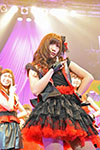 Nagano Serina announced her graduation from Idoling!!!.
Her last concert Idoling!!! #13 Nagano Serina Graduation Live Puni Puni Mata ne Daisuki (アイドリング!!!13号長野せりな卒業ライブ ぷにぷに・またね・だいすき) will be held on March 28, 2015 at the Shibuya Public Hall, Tokyo.
The 20-year old girl wants to pursue her career as a voice actress (seiyuu). She revealed that she wanted to do this job for a long time. She is a fan of anime and cosplay.
Nagano Serina joined Idoling!!! as a 2nd generation member in April 2008.
We wish her all the best in her future endeavors as an anime voice actress.