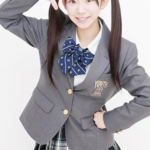 Nagasawa Marina announced she will withdraw from Houkago Princess.
She will also leave the group's agency. The date of her departure is December 31.
This announcement was made on December 14 on the official website of the group.
Her future projects have not yet confirmed, all this does not mean she will leave the entertainment industry.
Nagasawa said : "This is my will and I have been thinking about it for a long time. It also means I will leave my current agency as well. […]
I realized that I was not able to catch up with the rest of group after our major debut. My dancing and singing level wasn't good enough, I also couldn't get over my fears of being on stage during the live performances.
I really get along well with the members. I struggled because I knew how passionate the other members were about their performances. […]
Three and a half years have passed since I joined this group in 2013 ; this changed my life and I learned new things everyday. Every single day was fresh. Although I did something wrong but, I think I matured a lot thinking back the past. I do love my fans, indeed.
Thank you for supporting me from Houkago Princess."
Nagasawa Marina is aged 21. She is part of the group's 5th generation. She joined the group as an apprentice member in July 2013 before being promoted as a Cadet member of the idol group in October of the same year.
She was promoted to regular member status of HouPri in August 2016.