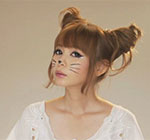 Shoko Nakagawa (中川翔子), born on May 5, 1985 in Tokyo, is a Japanese idol, singer, actress, model, TV presenter, illustrator and talent.
Her nickname is Shokotan (しょこたん).
She is the daughter of the actor and musician Nakagawa Katsuhiko (中川勝彦).
She is a fan of anime, manga, Super Sentai series, cosplay and cats.
Shokotan performed the theme songs for several anime. The most famous are Pokemon and Fullmetal Alchemist: Brotherhood. She released 5 anime song cover albums.
Nakagawa Shoko made her entertainment debut in 2001.
She was chosen as Miss Shōnen Magazine in November 2002.
As a gravure idol, Nakagawa Shoko released her 1st photobook Jewel Box in April 2004.
In May 2005, she became a regular cast on the TV show King's Brunch on TBS.
Her 1st single Brilliant Dream was released in July 2006.
In August 2007, Shokotan became the ambassador of the World Cosplay Summit held in Nagoya.
Shoko Nakagawa's 1st Concert: Donyoku Matsuri (中川翔子1stコンサート~貪欲☆まつり~) took place in october 2007. The 2000 tickets were sold out in 25 seconds.
Shokotan participated in Anime Expo 2008 in Los Angeles, USA.
In March 2009, she produced the video game Sukashikashipanman (スカシカシパンマン) on Nintendo DS.
She attended the event Ani-Com Hong Kong 2009 as a guest.
As an illustrator, Shokotan published Miracle Sketch ~Shoko Nakagawa Illustration Book~ (ミラクルスケッチ~中川翔子イラスト写真集~) in January 2010.
A serialized manga on her life titled Nakagawa Shoko Monogatari (中川翔子物語) started being published on Nakayoshi (なかよし) magazine in March 2010.
Between June and September 2010, she was in charge of a planetarium program (planning, music, narration) titled Shokotan no Hoshizora Tour – Tobidase Uchu e ("しょこたんの星空ツアー"飛び出せ!宇宙へ) at Konica Minolta Planetarium Manten.
Nakagawa Shoko created an original fashion brand mmts in Laforet Harajuku in February 2011.
In March 2012, she voice acted the heroine Rapunzel in Disney's movie Tangled.
In January 2014, Shokotan played the leading role in the movie Nuigulumar Z (ヌイグルマーZ).
Nakagawa Shoko participated in Japan Expo in July 2014 in Paris Nord Villepinte, France.
She dubbed the voice of the heroine Tessa Yeager in the Japanese version of the movie Transformers: Age of Extinction released in August 2014.
Profile
Nakagawa Shoko (中川翔子)
Birthdate : 05/05/1985
Birthplace : Tokyo, Japan
Blood type : A
Years active : 2001 – present
Label : Sony Music Entertainement
Agency : Watanabe Entertainment
Discography
Singles
05/07/2006 : Brilliant Dream
14/02/2007 : Strawberry Melody (

ストロベリmelody

)

27/06/2007 : Sorairo Days (

空色デイズ

)

30/01/2008 : Snow Tears

06/08/2008 : Shiny Gate

10/09/2008 : Tsuzuku Sekai (

続く世界

)

22/10/2008 : Kirei à la Mode (

綺麗ア・ラ・モード

)

29/04/2009 : Namida no Tane, Egao no Hana (

涙の種、笑顔の花

)

15/07/2009 : Kokoro no Antenna (

心のアンテナ

)

14/10/2009 : Arigatou no Egao (

「ありがとうの笑顔」

)

28/04/2010 : Ray of Light

18/08/2010 : Flying Humanoid (

フライングヒューマノイド

)

06/04/2011 : Sakurairo (

桜色

)


08/06/2011 :

Tsuyogari (つよがり)

11/01/2012 : Horoscope (

ホロスコープ

)
05/06/2013 : Zoku Konton (続 混沌)
11/12/2013 : Sakasama Sekai / Once Upon a Time ~Kibou na Uta~ (さかさま世界/Once Upon a Time -キボウノウタ-)
Albums
19/03/2008 : Big Bang
01/01/2009 : Magic Time
06/10/2010 : Cosmic Inflation
02/04/2014 : 9lives
Mini-Albums
15/08/2012 : nsum ~Nakagawa Shoko ga Utattemita!~ (nsum

~

中川翔子がうたってみた!

~

)
09/01/2013 : Uchi – Shigoto, Soto – Shigokoto!!
Cover Albums
02/05/2007 : Shokotan Cover ~Anison ni Koi wo Shite~ (

しょこたん☆かばー ~アニソンに恋をして。~

)
02/05/2007 : Shokotan Cover

×2

~Anison ni Ai wo Komete!!~ (

しょこたん☆かばー

×2 ~アニソンに愛を込めて!!~

)
02/05/2007 : Shokotan Cover 3 ~Anison wa Jinrui wo Tsunagu~ (

しょこたん☆かばー

3 ~アニソンは人類をつなぐ

~

)
02/05/2007 : Shokotan Cover 4-1 ~Shoko Idol ver.~ (

しょこたん☆かばー

4-1 ~しょこ☆ドル篇

~)
02/05/2007 : Shokotan Cover 4-2 ~Shoko Rock ver.~ (

しょこたん☆かばー

4-2 ~しょこ☆ロック篇

~)
Links
News