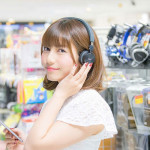 Starmarie member Nakane Motoko (中根礎子) changed her artist name to Nakane Monya (中根もにゃ).
She took this decision because she thinks that it is easier to remember. Monya is her nickname.
This announcement was made on August 23 during an event held by the idol group at Akiba Sofmap.
Nakane Monya has just debuted as a model for Zipper.
Furthermore, Starmarie's single Mekurumeku Yuuki (メクルメク勇気! ), on sale since August 19, reached the 13th rank on the Oricon daily chart. It is the ending theme song for the anime Cardfight!! Vanguard G (カードファイト!!ヴァンガードG).
Starmarie one-man live Maryoku ga Kieru (魔力が消える!) will take place on November 3 at Shinjuku Blaze, Tokyo.