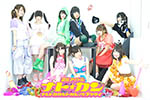 Nato☆Kan (ナト☆カン) is a Japanese idol group formed in 2011.
It currently consists of 9 members. They are split into 2 teams. Each one has been assigned a color.
Their mascot is a panda.
The unit is from Nagoya in Aichi Prefecture. The girls are also active in Tokyo.
Biography / History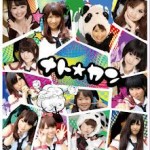 Nato☆Kan was created in December 2011.
The original members were Panda P, Yokochi Shiho, Ueno Miyuki, Oto Haruka, KaY, Amagai Ayaka, Kurata Mizuki, Endo Haruka.
Yokochi Shiho was the former leader of OS☆U.
Makirin left the idol group in May 2012.
Nato☆Kan's 1st single Nantoka Kantoka (ナントカカントカ) was released in July 2012.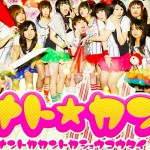 Iguchi Eri joined the unit in January 2013.
Ono Marina and Asada Natsuko graduated in February 2013. Asada Natsuko became a model for several fashion brands.
Nato☆Kan collaborated with Candy Go! Go! to release the single Spectrum (スペクトル) in August 2013.
Nagase Risa, Asakura Yurina, Momose Yumi, Kase Kaoru, Shibata Akane and Nakahara Mirin were recruited in September 2013. Previously, Nakahara Mirin was active as a solo idol. Asakura Yurina and Momose Yumi were former members of N Zero (Nゼロ).
Oto Haruka left the unit in October 2013. She pursued her career as a stage actress.
KaY announced her graduation in December 2013. She was the leader of Nato☆Kan.
The track Yumemiru Shoujo de Waraitai (夢みる少女で笑いたい), from their 2nd single, was the tie-up song for the show Idol Kaiwai (アイドル界隈) on TV Aichi in December 2013.
Amagai Ayaka and Kunitake Narumi, a.k.a. Nancy, graduated in January 2014. Kunitake Narumi became an actress in the Super Eccentric Theater Voice Actors (劇団スーパーエキセントリックシアター ボイスアクターズ) theatre company.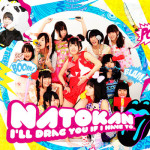 The single Yakusoku no Capsule ( 約束のカプセル), on sale in March 2014, was the tie-up song for the anime Sakura Capsule (サクラカプセル).
Ueno Miyuki and Hori Tomomi left Nato☆Kan in March 2014.
Shimakata Yui joined the idol group in April 2014.
Nagata Chihiro graduated in June 2014.
Matsushita Momoko left in September 2014. She pursued her career as a member of Carnival☆Stars.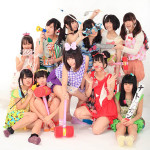 Manaka Shiori, Tabei Kureha, Asakura Yurina and Mizutani Kotono were recruited successively in September and in November 2014. These 4 girls were part of Artemadoll (アルテマドール).
Nato☆Kan's 4th single Yuki Motion (雪☆Motion) was a limited edition which was only on sale in some shops such as Village Vanguard in Tokyo and in Nagoya in December 2014.
Suenaga Nako and Aida Mao became new members in December 2014 and in January 2015.
Momose Yumi, Kase Kaoru and Kurata Mizuki graduated successively in January and in February 2015.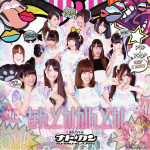 Shibata Akane and Yokoi Ryoka announced their graduation from Nato☆Kan in April 2015.
Hoshina Amayu joined the unit in May 2015. She wears a panda costume on stage. She was previously active as a solo idol.
Endo Haruka's solo single In the Sky (インザスカイ) went on sale in June 2015.
Manaka Shiori and Mizutani Kotono left the unit in July 2015.
Nato☆Kan 1st album Nantoka Kantoka (なんとかかんとか) was released in August 2015.
The idol group participated in the Allover project until September 2015.
Endo Haruka, Nakahara Mirin, Shimakata Yui and Tabei Kureha graduated after the Tokyo sub-unit had stopped its activities in October 2015.
Sakagami Mirei and Momomiya Ribon were recruited in October 2015.
Monju Yuma joined the idol group in February 2016.
Aida Mao announced her graduation in March 2016.
Profile
Nato☆Kan (ナト☆カン ; Natokan)
Years active : 2011 – present
Label : Candy Soul Record
Agency : Candy Remix
Members
1軍
Eripyon (えりぴょん) / Iguchi Eri (井口えり) / Light Blue
Risarisa Magic Venus (リサリサ・マジック・ヴィーナス) / Nagase Risa (長瀬リサ) / Pink
Annyaman (あんにゃまん) / Matsuzawa Anna (松澤あんな) / Orange
Nacchokomu (ナッチョコマ) / Suenaga Nako (末永なこ) / Green
Jukushi (ジュクシ) / Miyanohara Juri (みやのはらじゅり)
Amayushi (あまゆし) / Hoshina Amayu (星奈あまゆ) / Panda
Mirei Hime (美玲姫) / Sakagami Mirei (坂上美玲) / Red
Ririta (りりた) / Momomiya Ribon (桃宮りぼん) / White
2軍
Monju (もんじゅ) / Monju Yuma (門主ゆま)
Former Members
Makirin (まきりん)
Panda P (ぱんだP)
Shihorinu (しほりーぬ) / Yokochi Shiho (横地志保)
Marinya (まりにゃ) / Ono Marina (大野まりな)
Nacchan (なっちゃん) / Asada Natsuko (浅田菜津子)
Miyukichi (みゆきち) / Ueno Miyuki (上野美雪) / Yellow
Oto, Harurun (はるるん) / Oto Haruka (音華花)
KaY, Chankawa (チャンカワ) / Kawai Miku (河井実来) / Blue
Ayakami (あやかみ) / Amagai Ayaka (熊谷彩香) / Green
Nananana Nancy (ナナナ―ナナンシ―) / Kunitake Narumi (國武成美) / White
Tomopan (ともパン) / Hori Tomomi (堀智美) / Grey
Chihiro (ちひろ) / Nagata Chihiro (永田千裕)
Momochi (ももち) / Matsushita Momoko (松下桃子) / Green
Yurina (ゆりな) / Asakura Yurina (朝倉友理奈) / Yellow
Yumi (ゆーみ) / Momose Yumi (百瀬優美) / Yellow-Green
Kaoru (かおる) / Kase Kaoru (加瀬薆) / Blue
Mizukingu (みずきんぐ) / Kurata Mizuki (倉田みずき) / Orange
Acchan (あーちゃん) / Shibata Akane (柴田茜) / Pink
Ryonryon (りょんりょん) / Yokoi Ryoka (横井良加) / Purple
Manaka (真中) / Manaka Shiori (真中しおり) / Blue
Kotonotaso (ことのたそ) / Mizutani Kotono (水谷ことの)
Yuzuha (ゆずは) / Mase Yuzuha (間瀬柚巴) / Pink
Haruchiro (はるちろ) / Endo Haruka (遠藤遥) / Red
Mirin (みりん) / Nakahara Mirin (中原みりん) / White
Yuiyui (ゅぃゅぃ) / Shimakata Yui (島方唯) / Grey
Kuu-chan (くぅちゃん) / Tabei Kureha (田部井くれは) / Pink
Maorin (まおりん) / Aida Mao (相田真緒) / Purple
Discography
Singles
18/07/2012 : Nantoka Kantoka (ナントカカントカ)
04/12/2013 : Yumemiru Shoujo de Waraitai (夢みる少女で笑いたい)
21/03/2014 : Yakusoku no Capsule ( 約束のカプセル)
27/08/2014 : Idol Gekiteki Summer Dance ~Manatsu no Ujapoi~ (アイドル激的サマーダンス! 〜真夏のうじゃぽい〜)
24/12/2014 : Yuki Motion (雪☆Motion)
Collaboration Singles
28/08/2013 : Spectrum (スペクトル) (Nato☆Kan & Candy Go! Go!)
Albums
26/08/2015 : Nantoka Kantoka (なんとかかんとか)
Links
News