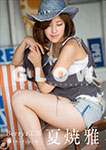 Natsuyaki Miyabi's new photobook Glow will be released on November 15.
The DVD including footage from the making-of will go on sale on December 15. A preview video has been revealed.
Her 1st photobook Miyabi has been released 6 years ago. As the member of Berryz Kobo is 21 years old now, this book has a more mature content. It includes sexy pictures of Natsuyaki Miyabi in swimsuit. It contains also photos of Miyabi wearing outfit from Berryz Kobo and Buono! live tours, and Alice in Wonderland themed costumes.
It is published by Wani Books.
Video