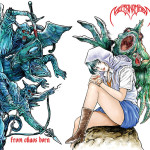 Japan's darkest idol unit, NECRONOMIDOL, has joined forces with the new label Moe Death to release their EP from chaos born in a very limited cassette tape run.
The tapes will drop on February 5th at Moe Death's webshop and will be limited to only 100 copies worldwide. NECRONOMIDOL will also have copies available for fans in Japan.
Containing tracks such as the post-black metal psychopomp, throwback metal MIDNIGHT DOMINATOR and new wave NYX, from chaos born is a must listen for anyone interested in hearing just how deep the current Japanese idol scene has gone.
Formed in 2014, NECRONOMIDOL is a 5 member Japanese idol group who take their inspiration from the concept of "darkness".
NECRONOMIDOL will kick off their Screaming for Vengeance one man tour on March 14 at Shinjuku LOFT with shows on June 13 at Shibuya WWW and September 30 at Ebisu Liquidroom to follow.
They will also be playing shows in Bangkok, Thailand on March 18~19 on their Re-Animation: Thailand tour.
NECRONOMIDOL's second album, DEATHLESS, will be released on February 22.
Based out of New Orleans, Moe Death is a new movement from within idol culture. Their main objective is to spread idol music and diverse Japanese acts, which currently dwell outside of what is considered the norm, for those who are genuinely interested. The word moe, taken from the Japanese word 萌え, is used here to represent a fixation on our obsessions. As for the use of death in their name, it is only appropriate to quote Romanian philosopher Cioran… "I have no ideas, only obsessions. Anybody can have ideas. Ideas have never caused anybody's downfall."
Purchase from chaos born here: http://moedeath.bigcartel.com/