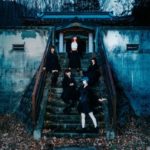 The dark idol group Necronomidol will perform in the north-east of France.
Necronomidol will hold a free concert on July 8 in Metz at La Porte des Allemands.
Don't miss this event.
Necronomidol had already held a concert in a French territory in March 2016: New Caledonia. It was the first time that this country has hosted a Japanese idol group to perform in concert.
A video created in honor of the event is available on Facebook.
In addition, Necronomidol released their 2nd album Deathless last February.
Video (Facebook)
NECRONOMIDOL EN FRANCE : 2 nd et dernier show en France a METZ le 8 juillet 2017 , Porte des Allemands NECRONOMIDOL in France : 2 nd and last Show in France in Metz : Porte des Allemands le 8 juillet 2017 .

Publié par Necronomidol in Europe sur lundi 8 mai 2017