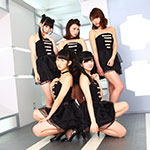 Negaigoto's new single Kikken na Genjitsu ~Kizu Darake no Tenshi~ (危険な現実~傷だらけの天使~) was released on June 24.
This is the 5th single from Negaigoto.
The short version of the MV has been unveiled.
2 editions are available. Each CD includes 3 songs. The 3rd track is different depending on the version.
Furthermore, the idol group held its 3rd anniversary live on June 28 at Harajuku Astro Hall in Tokyo.
Tracklist
Type A

Kikken na Genjitsu ~Kizu Darake no Tenshi~ (危険な現実~傷だらけの天使~)
Wasurerarenai Merry-go-round (忘れられないメリーゴーランド)
Atatakana ano Micho (暖かなあの道)
Type B

Kikken na Genjitsu ~Kizu Darake no Tenshi~ (危険な現実~傷だらけの天使~)
Wasurerarenai Merry-go-round (忘れられないメリーゴーランド)
Ai no Kankyou Kenkyuu Center (愛の環境研究センター)
Music Video (PV)