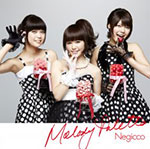 Negicco's 1st album Melody Palette will be released on July 17.
The album contains 13 songs, including their latest singles Koi no Express Train (恋の Express Train), Anata to Pop with You! (あなたとPop With You!), Ai no Tower of Love (愛のタワー・オブ・ラヴ), and Idol Bakari Kikanaide (アイドルばかり聴かないで).
It also features a new song, Negative Girls! (ネガティヴ・ガールズ!), written by Connie and 2 remix.
This album celebrates the 10th anniversary of Negicco as the idol group was created in July 2003.
Furthermore, Negicco will hold a live on August 10 at Shinjuku Blaze in Tokyo.
Tracklist
Ai no Tower of Love (愛のタワー・オブ・ラヴ)
Anata to Pop with You! (あなたとPop With You!)
Idol Bakari Kikanaide (アイドルばかり聴かないで)
Imishin Kamo Dakedo (イミシン☆かもだけど)
Soushisouai (相思相愛)
Koi no Express Train (恋の Express Train)
Get It On!
Natashia (ナターシア)
Root Seven no Kioku (ルートセヴンの記憶)
Negative Girls! (ネガティヴ・ガールズ!)
Negicco kara Kimi e (Negiccoから君へ)
Sweet Soul Negi (スウィート・ソウル・ネギィー) (grooveman's Jack Bounce Mix)
Neutrino Love (ニュートリノ・ラヴ) (banvox remix)
Video