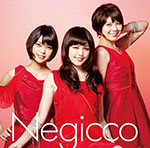 Negicco's new single Tokimeki no Headliner (ときめきのヘッドライナー) will be released on November 6.
The single is produced by Nishidera Gota from Nona Reeves. The 3 members of Nona Reeves performed the music of the title song.
The coupling track was written and composed by Connie.
The CD also includes a remix version of Negicco's single Ai no Tower of Love (愛のタワー・オブ・ラヴ).
The limited edition comes with a bonus DVD featuring the music video and making-of footage.
Furthermore, the idol group will hold the live Negicco Best!!! 10 Nenbun no Arigatou (NegiccoBest!!!10年分のありがとう) on October 10 at Niigata Terrsa to celebrate its 10th anniversary.
Tracklist
CD

Tokimeki no Headliner (ときめきのヘッドライナー)
Sayonara Music (さよならMusic)
Ai no Tower of Love (愛のタワー・オブ・ラヴ) (Extended 12″ Remix)
Tokimeki no Headliner (ときめきのヘッドライナー) (Instrumental)
Sayonara Music (Instrumental)
DVD (Limited Edition)

Tokimeki no Headliner (ときめきのヘッドライナー) (Music Video)
Tokimeki no Headliner (ときめきのヘッドライナー) (Making of)
Music Video (PV)