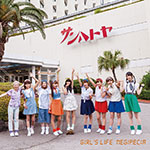 Negipecia's new single Girl's Life will be released on August 26.
Negipecia is a special idol unit consisting of members from Negicco and Especia. This collaboration is limited to this summer only.
Check out the music video.
The lead song is produced by Goto Tsugutoshi. He wrote the lyrics and composed the music.
There is a common edition of the single, but also one for each group. A 12 inch LP is also available.
Moreover, both idol groups are holding the joint live tour 9 Girls! from August 9 to 26 in Osaka, Niigata and Tokyo.
Tracklist
Negipecia ver.

Girl's Life
Girl's Life (Instrumental)
Negicco ver.

Girl's Life
Mizugi, Yukata, Hanabi, Senobi (水着・浴衣・花火・背伸び) (Negicco)
Mizugi, Yukata, Hanabi, Senobi (Negicco) (Instrumental)
Life Is Candy Travel (ライフ・イズ・キャンディ・トラベル) (Negicco) (PellyColo remix)
Especia ver.

Girl's Life
Mizugi, Yukata, Hanabi, Senobi (水着・浴衣・花火・背伸び) (Especia)
Mizugi, Yukata, Hanabi, Senobi (Especia) (Instrumental)
Adventure wa Giniro ni (アバンチュールは銀色に) (Especia) (521 remix by Connie)
12 inch LP ver.

Girl's Life
Girl's Life (Instrumental)
Mizugi, Yukata, Hanabi, Senobi (水着・浴衣・花火・背伸び) (Negicco)
Mizugi, Yukata, Hanabi, Senobi (Especia)
Music Video (PV)