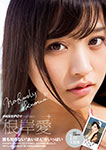 Negishi Ai (Passpo☆) will release her 1st photobook Nobody Knows on April 1. It is published by B.L.T.
All scenes were shot in Guam. Aipon shows different expressions in the atmosphere of a trip with her boyfriend. The book also features some pictures of Aipon in swimsuit.
Check out the special video message from Negishi Ai.
In the same collection, Passpo☆'s Masui Mio's 1st photobook 30 (mio) Pocket will also go on sale on April 1.
Negishi Ai 1st Photobook "Nobody Knows" (Special Video Message)