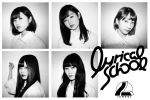 New members Hinako, Yuu and Risano, joined Lyrical School.
This announcement was made on April 18 on the idol group's official website.
After the graduation of leader Ayaka, Mei and Ami last February, Lyrical School suspended its activities for a new structure within it.
The three girls were chosen to join the only two members of the hip-hop and rap idol group, Minan and Hime ; they recently opened their own Twitter accounts.
In addition, Minan, is now the new leader of the Lyrical School.
The group announced a concert with this new line-up. A one-man live titled "New Game" will be performed at the Shibuya Harlem in Tokyo on May 21.