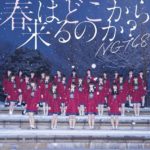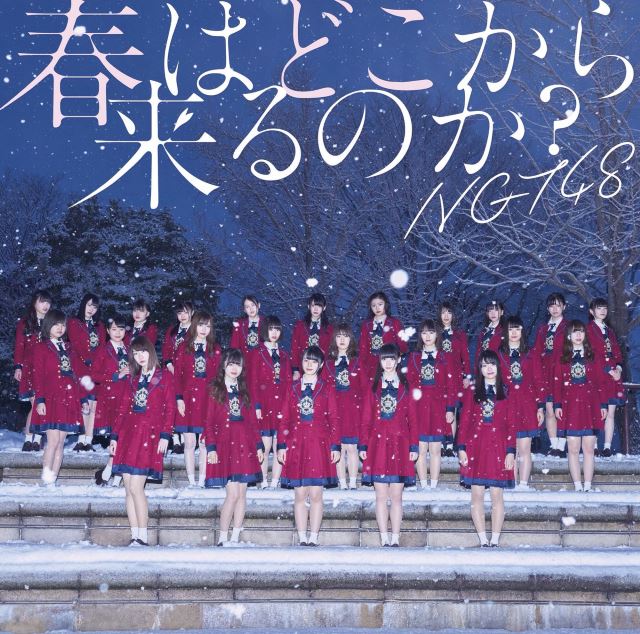 NGT48's new single will be released on April 11th.
It's entitled Haru wa Doko kara Kuru no ka? (春はどこから来るのか?) and he is the NGT48's 3rd single.
The selected members (senbatsu) of NGT48 for this single are Ogino Yuka, Oguma Tsugumi, Kashiwagi Yuki, Kato Minami, Kitahara Rie, Sato Anju, Sugahara Riko, Takakura Moeka, Tano Ayaka, Nakai Rika, Nishigata Marina, Hasegawa Rena, Homma Hinata, Murakumo Fuka, Yamaguchi Maho, Yamada Noe, Kado Yuria, Kusakabe Aina, Seiji Reina, Mau Takahashi, Nakamura Ayuka, Nara Miharu, Nishimura Nanako and Miyajima Aya.
The one in the center position is Homma Hinata.
Kitahara Rie who announced last August her graduation from NGT48 for next spring, performs a solo song in this single.
Check out the MV below.
The single will be sold in several editions. DVDs will contain video clips.
Tracklist
Type A

CD

Haru wa Doko Kara Kuru no ka? (春はどこから来るのか?)
Jouhatsushita Suibun (蒸発した水分)
Watashi no Tame ni (私のために) (Kitahara Rie solo)
Haru wa Doko Kara Kuru no ka? (off vocal ver.)
Jouhatsushita Suibun (off vocal ver.)
Watashi no Tame ni (off vocal ver.)

DVD

Haru wa Doko Kara Kuru no ka? (Music Video)
Watashi no Tame ni (Music Video)
Celebrating the Graduation of NGT48's First Captain Kitahara Rie ~I've Become a Niigata Woman.~ (祝卒業 NGT48 初代キャプテン 北原里英 ~新潟の女になりました。~)
Type B

CD

Haru wa Doko Kara Kuru no ka? (春はどこから来るのか?)
Jouhatsushita Suibun (蒸発した水分)
Ato de (あとで)
Haru wa Doko Kara Kuru no ka? (off vocal ver.)
Jouhatsushita Suibun (off vocal ver.)
Ato de (off vocal ver.)

DVD

Haru wa Doko Kara Kuru no ka? (Music Video)
Ato de (Music Video)
NGT48 Theater 2nd Anniversary Special Project Event: World Record Challenge! (NGT48劇場オープン2周年特別企画イベント 世界記録に挑戦!)
Type C

CD

Haru wa Doko Kara Kuru no ka? (春はどこから来るのか?)
Jouhatsushita Suibun (蒸発した水分)
Whatcha Gonna Do
Haru wa Doko Kara Kuru no ka? (off vocal ver.)
Jouhatsushita Suibun (off vocal ver.)
Whatcha Gonna Do (off vocal ver.)

DVD

Haru wa Doko Kara Kuru no ka? (Music Video)
Whatcha Gonna Do (Music Video)
NGT48 Kenkyuusei "Shitanona de Yobeta no wa…" Documentary (NGT48研究生「下の名で呼べたのは・・・」ドキュメンタリー映像)
« CD only » Edition

CD

Haru wa Doko Kara Kuru no ka? (春はどこから来るのか?)
Jouhatsushita Suibun (蒸発した水分)
Hansei Soda (反省ソーダ)
Haru wa Doko Kara Kuru no ka? (off vocal ver.)
Jouhatsushita Suibun (off vocal ver.)
Hansei Soda (off vocal ver.)
Music Video (PV)