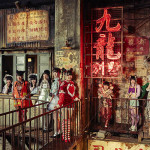 Niji no Conquistador's 5th single Alien Girl in New York (↓エイリアンガール・イン・ニューヨーク↑) will be released on May 17th.
It is a DVD single.
The MV has been unveiled.
The complete version of the music video is 60-minute length.
As the title suggests, the members of Niji no Conquistador appear as cute aliens in New York.
7 editions are available. Each one has a different part of the movie. So, if you want to watch the full version, you have to buy all the DVDs.
It was directed by Koroyasu Yusuke who has worked with Nogizaka46.
The lyrics were written by Murakawa Motonari. The music was composed by Uminekozawa Meron and arranged by Dance☆Man.
Sakai Yukina was in charge of the choreography.
Furthermore, Niji no Conquistador's 4th single Senjou no St Valentine (戦場の聖バレンタイン) is on sale since February 11th.
Tracklist
Alien Girl in New York (↓エイリアンガール・イン・ニューヨーク↑)
Music Video (PV)