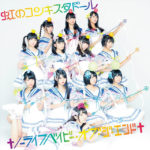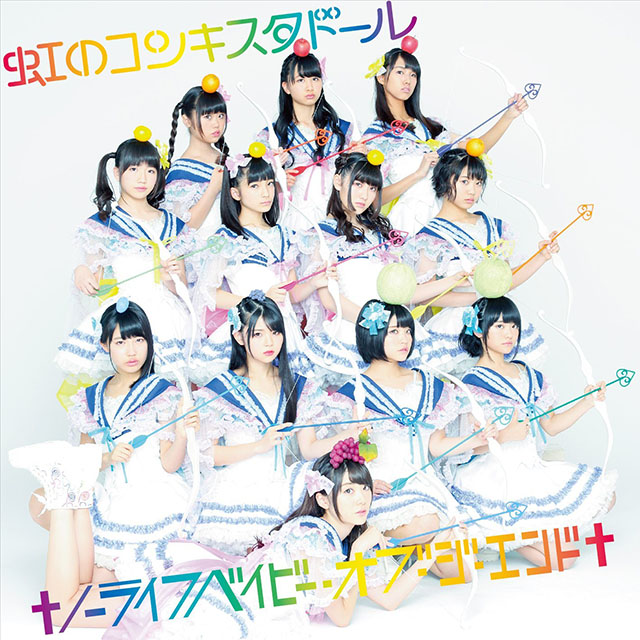 Niji no Conquistador released their DVD single entitled † No Life Baby of the End † (†ノーライフベイビー・オブ・ジ・エンド†) on April 26.
This is the 1st major single of the idol group also known as Nijicon ; it was released of the label King Records.
Check out the MV below.
The track will be used as the theme song for the movie Hijiri Zombie Jogakuin. The movie will feature Niji no Conquistador members and will be released in early summer 2017.
The DVD of the regular edition includes the MV, its making and live version.
The CD of this edition is also on sale. It contain only the title song and its instrumental version.
the DVDs of the "colored" limited editions contain, each one, the different video list.
Tracklist
CD

† No Life Baby of the End † (ノーライフベイビー・オブ・ジ・エンド)
† No Life Baby of the End † (Off vocal)
Regular Edition DVD

† No Life Baby of the End † (Music Video)
† No Life Baby of the End † (0109 LIVE ~CLUB CITTA~ver.)
† No Life Baby of the End † (MV Making Of)
Aka Edition DVD

† No Life Baby of the End † (Music Video)
Paradise na Kataomoi (0109 LIVE ~CLUB CITTA~ver.)
Denko Sekka, Natsu Hanabi (0109 LIVE ~CLUB CITTA~ver.)
Daida Edition DVD

† No Life Baby of the End † (Music Video)
Senjo no Sei Valentine (0109 LIVE~CLUB CITTA~ver.)
Yarukkyanai! 2015 (0109 LIVE~CLUB CITTA~ver.)
Ki Edition DVD

† No Life Baby of the End † (Music Video)
Retoruto ~Kareinaru Ai~ (0109 LIVE~CLUB CITTA~ver.)
Burand New Happy Days (0109 LIVE~CLUB CITTA~ver.)
Midori Edition DVD

† No Life Baby of the End † (Music Video)
LOVE men Koi Ajiya wa me (0109 LIVE~CLUB CITTA~ver.)
Pikushibu Ondo (0109 LIVE~CLUB CITTA~ver.)
Ao Edition DVD

† No Life Baby of the End † (Music Video)
Triangle Dreamer (0109 LIVE~CLUB CITTA~ver.)
Kiseki 100% (0109 LIVE~CLUB CITTA~ver.)
Ai Edition DVD

† No Life Baby of the End † (Music Video)
Paradoxical Complex (0109 LIVE~CLUB CITTA~ver.)
Dai Kirai Deshita(0109 LIVE~CLUB CITTA~ver.)
Murasaki Edition DVD

† No Life Baby of the End † (Music Video)
Kimi no Kimochi Oshiete (0109 LIVE~CLUB CITTA~ver.)
Watashiji, Mahou Shoujo (0109 LIVE~CLUB CITTA~ver.)
Music Video (PV)