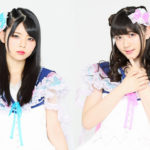 Several announcements were made at the beginning of this month for Niji no Conquistador.
First, Suyama Emiri announced May 1 to go on hiatus from the idol group for an indefinite period : health problems occurred last month, she is forced to suspend her activities with the group for care long-term medical care. She apologized to the fans and her staff for the anxiety she may have caused.
Then, another member of the group, Otsuka Miyu, announced her graduation of the group on May 1 also ; but as far as she is concerned, this is another matter. She explained that she wanted to leave the idol group because, after the group's recent major debut, she could no longer balance her idol career and her studies (the back to school having resumed in Japan this month). Her graduation took place in a hurried way since she officially left the group on May 5.
Otsuka Miyu and Suyama Emiri were among the founding members of Niji no Conquistador.
The horror movie Hijiri Zombie Jogakuin will be released next summer. The major single of the idol group † No Life Baby・Of・The・End †  will be the soundtrack of the movie.