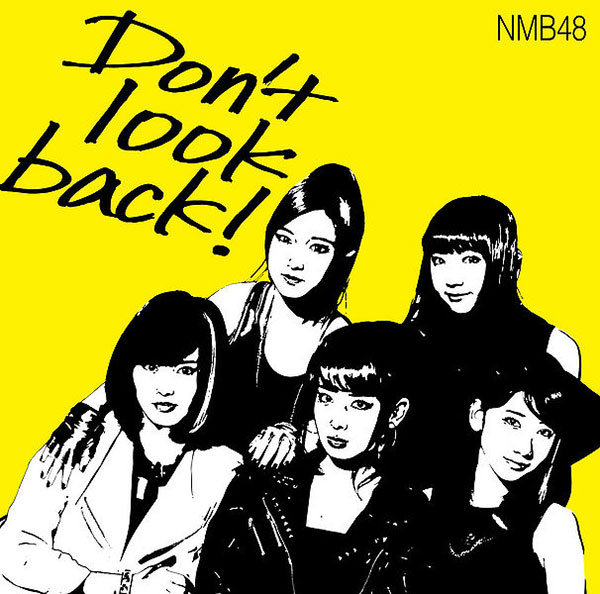 NMB48's 11th single Don't Look Back will be released on March 31.
The list of the 23 Senbatsu members has been announced.
The center is Yamada Nana who is going to graduate from NMB48 on April 3.
Senbatsu Members :
Team N : Ota Yuri, Kashiwagi Yuki, Kato Yuka, Kotani Riho, Jonishi Kei, Suto Ririka, Nishimura Aika, Yamamoto Sayaka, Yoshida Akari
Team M : Kushiro Rina, Shiroma Miru, Tanigawa Airi, Fujie Reina, Murase Sae, Yagura Fuko, Yamada Nana
Team BII : Ichikawa Miori, Umeda Ayaka, Kadowaki Kanako, Kusaka Konomi, Shibuya Nagisa, Yabushita Shu, Watanabe Miyuki
Moreover, SKE48's 17th single will be on sale on the same day.
Tracklist
Type A Regular Edition

CD

Don't look back!
Sotsugyou Ryokou (卒業旅行)
Renai Petenshi (恋愛ペテン師) (Team N)
Don't look back! (off vocal)
Sotsugyou Ryokou (off vocal)
Renai Petenshi (off vocal)

DVD

Don't look back! (Music Video)
Don't look back! (Music Video Dance ver.)
Renai Petenshi (Music Video)
Seishun no Lap Time (Music Video)
Type A Limited Edition

CD

Don't look back!
Nietzsche Senpai (ニーチェ先輩;) (Namba Teppoutai Sono Roku)
Renai Petenshi (Team N)
Don't look back! (off vocal)
Nietzsche Senpai (off vocal)
Ren'ai Petenshi (off vocal)

DVD

NMB48 4th Anniversary Live @ Grand Cube Osaka Main Hall (2014.10.14)
Type B Regular Edition

CD

Don't look back!
Sotsugyou Ryokou (卒業旅行)
Heart, Sakebu. (ハート、叫ぶ。) (Team M)
Minna, Daisuki (みんな、大好き) (Yamada Nana)
Don't look back! (off vocal)
Sotsugyou Ryokou (off vocal)
Heart, Sakebu. (off vocal)
Minna, Daisuki (off vocal)

DVD

Don't look back! (Music Video)
Don't look back! (Music Video Dance ver.)
Heart, Sakebu. (Music Video)
Tomodachi (Music Video)
Type B Limited Edition

CD

Minna, Daisuki (off vocal)

Don't look back!
Nietzsche Senpai (ニーチェ先輩) (Namba Teppoutai Sono Roku)
Heart, Sakebu. (Team M)
Minna, Daisuki (Yamada Nana)
Don't look back! (off vocal)
Nietzsche Senpai (off vocal)
Heart, Sakebu. (off vocal)
Minna, Daisuki (off vocal)

DVD

NMB48 4th Anniversary Live @ Grand Cube Osaka Main Hall (2014.10.15)
Type C Regular Edition

CD

Don't look back!
Sotsugyou Ryokou
Romantic Snow (ロマンティックスノー) (Team BII)
Don't look back! (off vocal)
Sotsugyou Ryokou (off vocal)
Romantic Snow (off vocal)

DVD

Don't look back! (Music Video)
Don't look back! (Music Video Dance ver.)
Romantic Snow (Music Video)
NMB48 feat. Yoshimoto Shinkigeki Vol.11
Type C Limited Edition

CD

Don't look back!
Nietzsche Senpai (Namba Teppoutai Sono Roku)
Romantic Snow (Team BII)
Don't look back! (off vocal)
Nietzsche Senpai (off vocal)
Romantic Snow (off vocal)

DVD

NMB48 4th Anniversary Live @ Grand Cube Osaka Main Hall (2014.10.16)
Theater Edition

CD

Don't look back!
Sotsugyou Ryokou
Nietzsche Senpai (Namba Teppoutai Sono Roku)
Don't look back! (off vocal)
Sotsugyou Ryokou (off vocal)
Nietzsche Senpai (off vocal)
Music Video (PV)