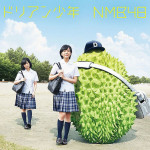 NMB48's 12th single Durian Shounen (ドリアン少年) will be on sale on July 15.
Team N's Suto Ririka has been appointed in center position for the first time.
Check out the MV.
NMB48 members are wearing bikinis, as usual for their summer song. They are also participating in a parade and dancing in the streets in Taiwanese school uniforms.
The music video was filmed in Taiwan.
The Senbatsu members are :
Team N: Ota Yuuri, Kato Yuuka, Kotani Riho, Jo Eriko, Jonishi Kei, Suto Ririka, Yoshida Akari, Yamamoto Sayaka, Shiroma Miru
Team M: Tanigawa Airi, Fujie Reina, Murase Sae, Yagura Fuuko
Team BII: Ichikawa Miori, Umeda Ayaka, Kadowaki Kanako, Kusaka Konomi, Yabushita Shu, Watanabe Miyuki, Shibuya Nagisa
Each edition includes a DVD featuring bonus footage.
Tracklist
Type A

CD

Durian Shounen (ドリアン少年)
??
Inochi no Heso (命のへそ) / Team N
Durian Shounen (Instrumental)
?? (Instrumental)
Inochi no Heso (Instrumental)

DVD

Durian Shounen (Music Video)
Durian Shounen (Dance Version)
Inochi no Heso (Music Video)
NMB48 feat. Yoshimoto Shinkigeki Vol.12
Type B

CD

Durian Shounen (ドリアン少年)
??
Boku Dake no Secret Time (僕だけのSecret time) / Team M
Durian Shounen (Instrumental)
?? (Instrumental)
Boku Dake no Secret Time (Instrumental)

DVD

Durian Shounen (Music Video)
Durian Shounen (Dance Version)
Boku Dake no Secret Time (Music Video)
Jiken Daze! Yamada Nana 24 Hours (ジケンだぜっ!!山田菜々24時)
Type C

CD

Durian Shounen (ドリアン少年)
??
Kokoro no Moji wo Kake! (心の文字を書け!) / Team BII
Durian Shounen (Instrumental)
?? (Instrumental)
Kokoro no Moji wo Kake! (Instrumental)

DVD

Durian Shounen (Music Video)
Durian Shounen (Dance Version)
Inochi no Heso (Music Video)
Sayonara, Kakato wo Fumu Hito (サヨナラ、踵を踏む人) (Music Video)
Taiwan de Durian wo Tabetemitta (台湾でドリアンを食べてみた)
Theater Edition

CD

Durian Shounen (ドリアン少年)
??
Sayonara, Kakato wo Fumu Hito (サヨナラ、踵を踏む人) / Namba Teppoutai Sono Nana
Durian Shounen (Instrumental)
?? (Instrumental)
Sayonara, Kakato wo Fumu Hito
Music Video (PV)