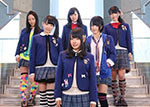 NMB48 Geinin The Movie Owarai Seishun Girls! (NMB48 げいにん! The Movie お笑い青春ガールズ!) will be released in Japanese theaters on August 1.
As its title suggests, the movie is based on the TV show NMB48 Geinin airing on Nippon Television (NTV). In the show, NMB48 members such as Yamamoto Sayaka or Watanabe Miyuki play the roles of the members of a comedy club at Namba Girls School (なんば女学院).
Check out the trailer.
The film was screened as a preview in March at the 5th Okinawa International Movie Festival (沖縄国際映画祭).
It was directed by Uchida Hidemi.
NMB48 Geinin! The Movie Owarai Seishun Girls! will be released on DVD on April 23, 2014.
Trailer